Bolivia's Election Part II: The Candidates for President
Dear Readers:

Today we bring you our second installment of our Blog series on the Bolivian Presidential vote. Last time we looked at some of the peculiarities of the vote and the politics surrounding it. In this post we look at the major candidates on the ballot in the December 6th election.We will be back again shortly with a look at the major issues in the race. This article was written with assistance from the Democracy Center's stellar intern, Jessica Aguirre.

Jim Shultz_______________________
T
hree major candidates are competing for the Bolivian Presidency in December, accompanied on the ballot by five others, none of who have polled at more than 5% in recent voter surveys.
Evo Morales – The Incumbent President of Bolivia
Movimiento al Socialism (Movement toward Socialism)Biography in a Nutshell
Morales is wrapping up his fourth year as Bolivia's President, elected with 53% of the vote in December 2005. Morales rose to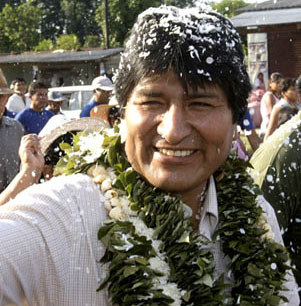 political prominence as leader of the coca growers in the Chapare region of Bolivia and later as a member of Congress with the MAS party, which he founded. Prior to his presidency Morales played a role in many of the prominent protest movements in Bolivia over the past decade, including mobilizations against forced eradication of coca, the Cochabamba Water Revolt, the 2003 Gas Revolt and others.
As President Morales has championed three major changes – a deeper role of the state in exploiting the countries gas and oil reserves, adoption of a new Bolivian Constitution, and broader economic support for the nation's most impoverished. Morales' presidency has also generated strong opposition, mostly from wealthy members of Bolivia's traditional elite and the broader public in the nation's eastern lowlands. In foreign affairs Morales has steered Bolivia toward close relationships with Venezuela, Iran and Cuba, among others, and has had a combative relationship with the U.S., including his ouster of the U.S. Ambassador and U.S. DEA last year.
Running Mate
Alvaro Garcia Linera; a one-time prisoner charged with guerilla activity, Linera is a well-known intellectual who served for many years as a television analyst on Bolivian politics.
Platform and Campaign
Morales' key campaign promises deal with implementation of the new Constitution; elimination of corruption; and greater social equity and indigenous representation along with regional integration and alternative development. He also hopes to win a 2/3 majority for MAS in the new Bolivian Congress.
Political Base
Morales enjoys support hitting the 80% mark in many parts of rural Bolivia and especially in the western altiplano highlands. His support is weaker in the cities and weaker still in the western departments such as Santa Cruz.
Recent polls show
Morales winning 47% of the vote, more than thirty points ahead of his nearest opponent.
Morales on the Web:
Facebook
Manfred Reyes Villa
Plan Progreso para Bolivia-Concertación Nacional (Progress Plan for Bolivia-National Convergence)Biography in a Nutshell
Reyes Villa is the former mayor of the city of Cochabamba and the former Governor of the State of Cochabamba. He is also a former military captain who served in the early 1980s as the personal guard to one of the nation's most brutal dictators, Luís García Meza. As Mayor, Reyes
Villa was popular for his construction of numerous public works projects, including city parks, the world's largest stautue of Jesus, and a new airport, all of which were primarily financed with public debt. A candidate for President in 2002, he finished third behind the winner, Gonzalez Sanchez de Lozada and Morales. He later formed a political aliance with Sanchez de Lozada just before the President's political ouster in 2003. Elected Governor in 2005, Reyes Villa's popularity sank when he thrust himself into national political matters and opposition to Morales. When a voter referendum was held in August 2008, Reyes Villa was removed from office by a vote of 2 to 1.
Running mate
Leopoldo Fernandez; former governor of the department of Pando. Fernandez was arrested and imprisoned a year ago by national authorities, accused of having organized and authorized the September 11, 2008 massacre in Pando of Morales supporters.
Platform and Campaign
Reyes Villa has pledged to reopen debate over the MAS-driven constitution approved by voters last January. He also has declared his intent to seek greater departmental autonomy and to increase foreign capital investments in mining and other resources. Generally favors closer relations with the U.S. and has close ties to conservative groups in the U.S.
Political Base
Reyes Villa
has been polling
at about 16% in recent voter surveys, well behind Morales. While he could once count on solid support from both the city and larger department of Cochabamba his ouster by voters a year ago makes that much less certain. His selection of the jailed Fernandez as his running mate can be seen as a bid to solidify a support base among the country's most bitter anti-Morales factions but makes it virtually impossible for him to carve into any significant part of the Morales base.
Reyes Villa on the Web:
Website
,
Facebook
,
Twitter
Samuel Doria Medina
Unidad Nacional (National Unity)
Biography in a nutshell
Medina is a wealthy Bolivian businessman who owns both the nation's Burger King chain and
significant interests in the cement business. This is his second run at the Presidency (he was a candidate in 2005 finishing a distant third) and has sought to position himself as a moderate between Morales and conservative political forces in the country. Originally from La Paz, Medina attended the London School of Economics. In 1995 he was kidnapped by the Tupac Amaru Revolutionary Movement and held for 45 days. He was also a member of the constitution-writing Constitutional Assembly in 2006-2007.
Running Mate
Gabriel Helding, from the conservative stronghold of Santa Cruz, elected deputy to the National Congress.
Platform and Campaign
Medina's emphasis is on being a businessman who wants to develop employment for Bolivians. His slogan is: We'll put Bolivia to work. His campaign, though he trails a distant third, is well financed and visible.
Political Base
Unlike Morales and Ryes Villa Medina has no specific geographic or ideological base. He is seeking to create a base out of pockets attracted to a more moderate message, a tough sell in politicized Bolivia.
Recent polling
shows him with the support of 12% of voters.
Doria Medina on the Web:
Website
,
Facebook
The Others
None of the remaining five candidates,
according to polls
, have significant enough voter support to be a major factor in the race. They include:
Rene Joaquino (Social Alliance)
Roman Loayza (People)
Ana Maria Flores (Patriotic Social Unity Movement)
Alejo Veliz (Pulse)
Rime Choquehuanca (Bolivia Social Democrat)
Written by Jim Shultz and Jessica Aguirre